Glynis was initially unsure about whether she would like to be a server or would prefer to be a reader – and she now volunteers in both roles.
As a server you're really part of the service. I'd say to anyone who is in two minds about it, do it! 
Glynis – volunteer server
Glynis, a copy-editor by occupation, first volunteered at the Cathedral as a collection counter (something that ended with Covid-19). Later, there was an appeal for people to help with serving or reading. Glynis felt she would be happy to read, but that serving wasn't really for her. She didn't answer that appeal, but decided she would if it came up again. 
When the next call came, it was only for servers. Glynis volunteered despite her initial reticence and now acts as an acolyte (candle-bearer) or crucifer (cross-carrier). 
'Cross and lights' lead the procession of ministers and choir in and out of the Sunday morning Eucharist and some other services. She was nervous at first, but soon got used to it, and now enjoys it. 'As a server you're really part of the service. I'd say to anyone who is in two minds about it, do it! It'll be fine.' And Glynis did join the readers' rota.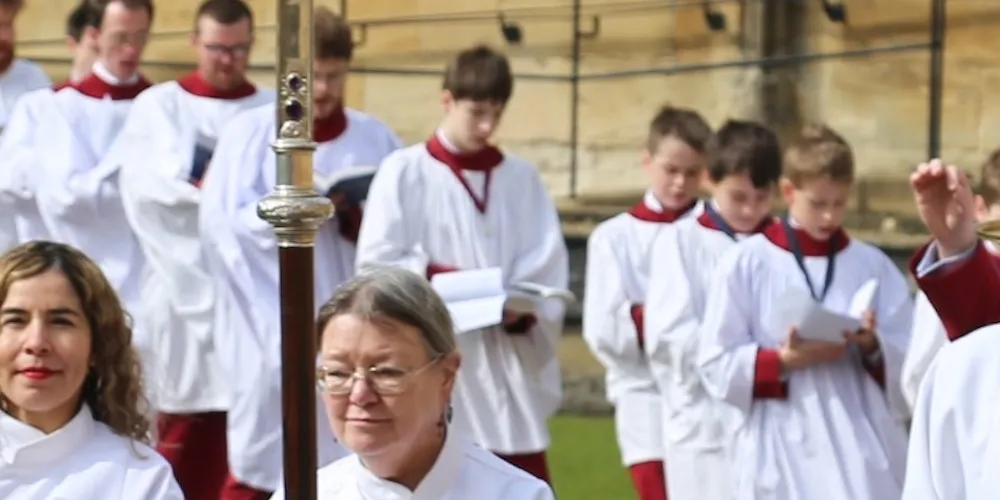 Becoming a server at Christ Church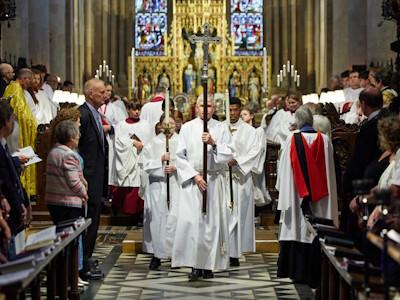 Supervision: Volunteer and Visitor Coordinator, the Precentor
Time commitment: Flexible, as per rota, request of Liturgy Office. Usually Sunday mornings, sometimes evenings and at other times.
Purpose and function: A server is a lay assistant to the clergy during worship. Servers carry out multiple roles. Predominantly, the task of a server at the Cathedral is that of being an acolyte (candle-bearer) or crucifer (bearer of the processional Cross), and sometimes a thurifer (bearer of the incense). An altar server also attends to supporting tasks at the altar such as fetching and carrying. It is not expected that a server is a Eucharistic minister (assisting with the distribution of Holy Communion), though it is possible to offer this ministry alongside that of server following discernment and training.
Role profile and duties:
Commitment to the Christian faith
Enthusiasm for the Cathedral's worship, and potentially a member of the Cathedral's congregation
A positive, friendly, helpful attitude
Ability to act with due reverence and courtesy
Ability to move with dignity and to sit attentively
Able to operate as part of a team and to follow instructions
To find a replacement Reader should you not be able to fulfil your duty, and inform the Volunteer and Visitor Coordinator of any changes (the Volunteer and Visitor Coordinator will endeavour to find a replacement for you if you are not able to)
General volunteer requirements:
Read and follow the Christ Church Cathedral Volunteer Safeguarding Guide
Complete Church of England Safeguarding Training – Basic Awareness, and Foundation modules
Read and sign the Volunteer Agreement
Complete induction training which will include Health & Safety, Fire, Security, as appropriate for the role
Depending on additional advice received from the UK government or Church of England, you may be required to attend additional training sessions
Attend Volunteer Days and training sessions as appropriate for the role

Volunteer benefits
Become part of a friendly, supportive and welcoming community of volunteers
Invitations to monthly coffee mornings with quizzes and talks; annual Garden Party and Epiphany Party (including a guest); visits to places of interest
Priority booking to services such as Nine Lessons & Carols
Free entry to the Christ Church site at any time (when open) with family or friends
10% discount in the Christ Church shop.