At Christ Church we welcome candidates from all backgrounds. If you have the academic ability and potential to study at Oxford, we welcome you to apply. Read on to find out how. 
This page explains the application process for undergraduate study. If you're interested in applying for one of our graduate courses, see our graduate study pages.
The application process at the University of Oxford is the same whether you're applying to Christ Church or any other Oxford college. Your application must be made through UCAS (the Universities' and Colleges' Admissions Service), even if you already hold an undergraduate degree. 
The next round of applications will be for entry in October 2024. To apply you must submit your UCAS application by 6pm on 16 October 2023. 
Our tutors have to compare many excellent applicants, which means they take into account all the information available to them, including contextual information about your background.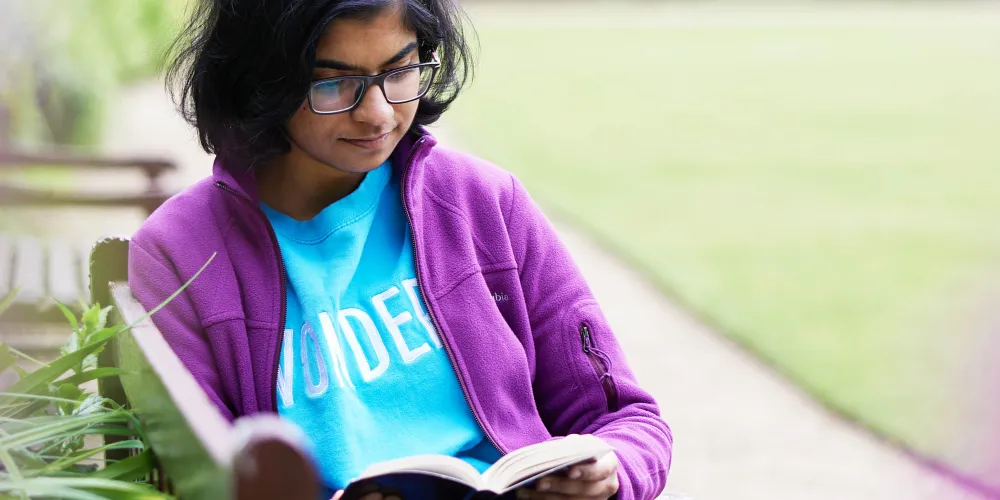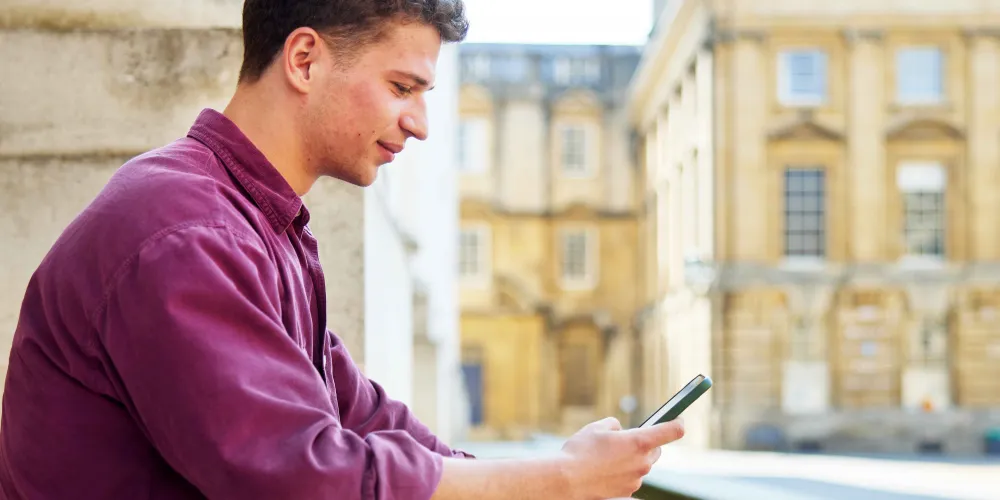 Here are the main elements that our tutors consider when reviewing your application. 
Your grades. This includes your GCSE results, and AS Level qualifications if you're from Wales and Northern Ireland, as well as your predicted or actual A-Level grades (or equivalent qualifications). We also get a sense of your academic record from your teacher's reference. 
Your personal statement. This is is your opportunity to tell us about your academic interests and the reading that you've done around your subject and beyond your school curriculum.
Your written work and admissions test score. After you've put in your UCAS application by the October deadline, for some subjects you'll also need to submit an example of your written work and sit an admissions test.
Your interview at Oxford. This is the final stage of the application process. If you're called for interview, you should expect to be invited to Oxford in early December. See our interviews page for learn more about the interview process at Oxford and to read our top tips. 
Personal statement, interviews and tests
The personal statement is an opportunity to tell us about yourself and why you want to study your chosen course. It's also a good way of checking you actually do want to study a particular subject – if you can't think of anything to say about it, you might need to rethink your choice! 
At Oxford the personal statement is sometimes used as a starting point for discussion at interviews, like talking about a book you've mentioned, so it's a chance to highlight your interests within the subject.
We realise that this is probably the first time you have written something like this and that many applicants find it tricky, so here are our top tips. Good luck!
Shortlisted candidates are invited to interview at Christ Church. Scroll down to learn more about the interview process.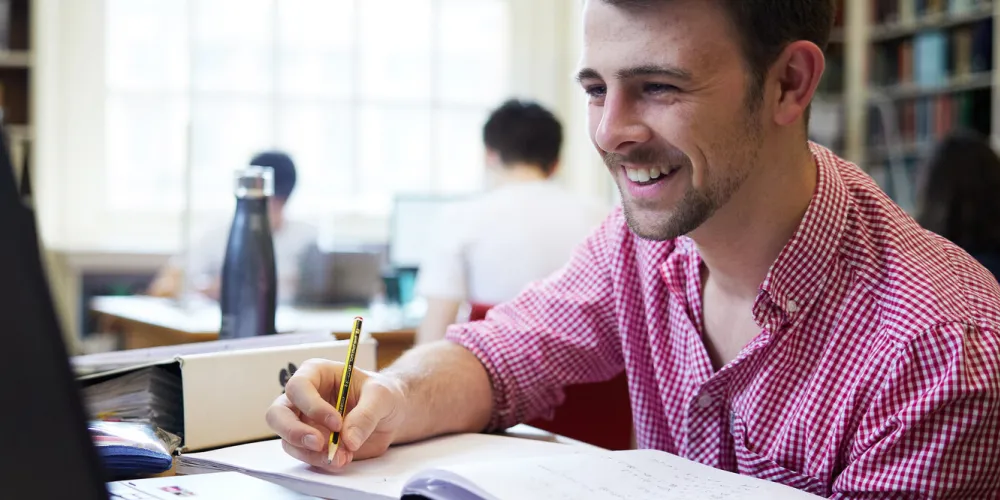 How do I plan the personal statement?

The UCAS website has lots of advice on what you need to include, so is the best place to start. It is, by definition, your personal statement, so you're free to write it as you wish, but there are a few ways of thinking through your ideas to get started. The first thing to do is to look up the selection criteria for our courses, and then write down things about you that meet the points. It's also a good idea to show you know what's in the courses you're applying for. Obviously, that doesn't mean list the modules, but if you're applying for slightly different courses at different universities, say with just one joint course: you don't have to give each equal space, but make sure you definitely talk about both subjects.

Remember that a good personal statement is a simple one. We just want you to show us that you've reflected on what you've learned so far, and are curious to learn more. You don't need to include quotes and it's always best in any writing to avoid clichés.

Showing why you want to apply

The beginning of your personal statement ought to focus on how the things you've learned have spurred your interest in your subject, and how you've reflected on them. For example, a good personal statement might include something like:

I have been surprised by the breadth and potential of Biology while studying the subject at A-Level. I am particularly interested in developmental biology and look forward to studying it in greater depth at university.

This shows that you have been inspired by engaging with your subject, and the ways in which you are intellectually curious about taking it further.

Avoid statements like this:

I once read that "those who do not remember the past are condemned to repeat it". From that moment on, I wanted to study History and Politics.

It might seem very grandiose, but it doesn't really tell us much about how your engagement with the subject has made you curious enough to want to study it at university. It is bland and generic, while also quoting a cliché!

Rather than listing all the things you've done, or telling us how brilliant a student you are, you can show you've thought about your experiences and learnt things from them, and in turn demonstrate the qualities we're looking for without actually having to state that you have them.

One of the best ways to do this is by reflecting on things you have read or engaged with in your subject beyond the school curriculum – these are known as super-curricular activities.

Reflect on what you have learned from these activities, alongside your school learning, and identify themes and questions that interest you. What are the skills or insights you have gains? What do you want to explore further at university?

A good example might be:

I developed my interest in the relationship between ecology and public policy through my Global Perspective project which studied the impact of re-introducing wolves to Scotland on the ecosystem of the Highlands.

Taking your interests further

Don't just give a list of books or activities you've read and done, as impressive as those may be. Show us how your reading and relevant experiences have contributed to your academic interests and demonstrate your potential as a university student. (Also, don't lie or exaggerate about what you've read or done – it will be awkward when you can't back it up in an interview!)

Think about how your reading or experience has enhanced your interest and understanding of the subject – go deeper than just telling us you like or agree with an author. For example, the following is a good first try, but could go further:

I read philosophy in my spare time. I like Hegel and Marx, but my favourite philosopher is Rousseau because I agree with him that everyone should play a role in governing society.

Let's try expanding this a bit. How about:

I enjoy reading philosophy at home, as I feel their different approaches and perspectives broaden my appreciation of how others experience the world. I find Rousseau's arguments on the Social Contract particularly persuasive as I have seen how government by consent and compromise can work well during my time volunteering with my local councillor.

This is much more concrete in terms of a critical engagement with your reading, with a solid explanation of some reasons why you have reached those conclusions. This would be a particularly good example for a PPE applicant, as it connects Philosophy and Politics directly, and provides a link to then go on and talk about what the applicant has learned through their own engagement with real-life politics.

If you have participated in a programme with Oxford or any other university, don't be afraid to use it as an example here. Those programmes exist to help develop your skills, confidence, and experience as a prospective candidate!

I greatly enjoyed reading Ted Hughes' poetry on Prometheus and his translations of Ovid's Metamorphoses, as they bring out the more human side of the gods and heroes of the ancient world. I pursued my interest in Greek and Latin poetry at the Oxford UNIQ summer school, where I enjoyed discussing the context of Sappho's poems.

It's something of a myth about Oxford that we are looking for all-rounders: mathematicians who are also concert pianists and captain the school football team. That's not at all the case: we are looking for applicants who have potential to be great students in their subjects. Extra-curriculars that aren't related to your academic subject in any way are not considered particularly relevant for Oxford. We'd recommend you spend no more than 20% of your personal statement talking about them.

Focus on super-curriculars where possible, as these will still be relevant to any university application! We're not worried about how 'unusual' or 'exotic' your super-curriculars are, more whether or not you've engaged and learnt from your experiences regardless of how ordinary or different these might be. We absolutely encourage everyone to pursue the things they find fun and interesting, and certainly to talk a little about those on your application, but remember they're not the main thing we're interested in.

Watch our videos on admissions interviews to get an idea about how super-curricular content from your personal statement may be discussed.

It's your personal statement. Use it to showcase what makes you such a great candidate for your chosen course!
Avoid clichés and vague statements. Be specific about exactly what makes you so interested in your subject, and why.
Add depth to your reasoning by talking about specific things you've studied that have helped build your passion and interest in your subject, such as a project or aspect of your course. Is this similar to something covered in your degree course of choice?
Show how your interests support your studies. Don't just say that you like learning about topic X or agree with the points in book Y, tell us how it has enhanced your understanding, or linked together things you've studied and thought about.
Use programmes you've participated in at Oxford or elsewhere as a good way of showing super-curricular engagement. What did you gain from them, and how does that connect to what you have already studied, and what you may wish to take further?
Don't worry too much about extra-curricular activities that don't directly relate to the course you're applying for. It's great to pursue your interests, but Oxford is less interested in hearing about them than the things that most closely relate to your subject area. Of course, they remain important for other universities who might not get the chance to meet you during the applications process, so don't neglect to mention them altogether! 20% of your personal statement is plenty for this.

How important is work experience?

Don't worry about specific kinds of super-curricular activity; there is no hierarchy of them. We understand that not everybody will have had the same opportunities to access work experience, so the focus is not so much on what you have done, but how you have engaged with that activity and what you have learnt from it. This is regardless of whether the activity is reading a book, listening to a podcast, attending an academic taster, work experience, or something else entirely! Reflect on your experiences, draw connections, and you'll end up with a great personal statement regardless of the nature of the super-curriculars.

 

What if I'm applying for different courses at different universities?

Try to think about the intersections of the different courses, so the personal statement can be as relevant as possible to all your course choices. Universities are aware that you are sending the same personal statement to all five choices, so there is some element of flexibility there as long as you are demonstrating relevant interest and critical engagement.

 

How do I write an application for joint degrees?

Each of Oxford's joint courses is designed to combine complementary elements of each of the subjects studied. When writing your personal statement, we recommend that you think carefully about how and why these subjects complement each other. What might be the ways in which History and Politics overlap as academic disciplines? Where do Philosophy, Politics, and Economics intersect?

 

Can I use quotations?

Remember first and foremost the advice to make the statement personal and avoid clichés. We'd recommend only using one if it's really meaningful to you and keeping it short – by definition, a quotation is something someone else has thought about. In your personal statement we want to hear about your thoughts!

 

Will I be asked about my personal statement in the interviews?

Your personal statement will definitely be read by admitting tutors and can be used in interviews. If that happens, it does not mean that tutors are trying to catch you out: it just means that they would like to talk to you about something you have said interests you. It may, however, be that you are not asked about your personal statement at all and you the interviewers go straight into discussing a particular problem, text, etc. You can learn more about interviews by watching the videos on our website.
Pick up some tips for your interview at Christ Church
A distinctive feature of the Oxford application process is the interview. That is because a lot of our teaching at Oxford takes place in small classes and tutorials, so your interviewers – who may become your future tutors – will be looking to see whether you would be suitable for this kind of learning and thinking, and for your chosen course.
Tutors will be looking to find out about your academic ability and potential, and your background or appearance will not matter.
While it's perfectly natural to feel nervous, we'd like to encourage you to try to think of the interview as a mock tutorial, and – as much as possible – to be yourself.
Learn more about interviews at Oxford
Our applicants often have various qualifications from all over the world, so the admissions test gives tutors a common set of data to compare all applicants. You can check whether a test is required for your choice of course on the University website. 
The test helps tutors to decide whether to shortlist you for interview (alongside the information on your UCAS form and any written work you've submitted). Here are some important points to remember:
Register for the test by the deadline: registration isn't automatic.
Check past/specimen papers, and the syllabus if available, found on the page for the particular test on the University website.
Practice is the best preparation, including practising under timed conditions.
We've provided information and advice relating to the various admissions tests below.