Christ Church is very pleased to facilitate the conferral of degrees for members of the House and looks forward to welcoming its graduands to celebrate this important achievement.
Formal submission of degree candidates to the University at the Sheldonian Theatre is undertaken by the Censors of Degrees, Professor Mark Edwards and Mr Karl Sternberg.
Booking a Degree Ceremony
The organisational and hospitality arrangements are made through the Academic Office (tel: 01865 286574, e-mail: academic.office@chch.ox.ac.uk).
Booking a degree ceremony
Current Undergraduate and Postgraduate taught students will receive an email invitation in their final year inviting them to log into the eVision degree ceremonies booking system.
Research students granted leave to supplicate will receive an email invitation with information about booking a degree ceremony.
Students who have already completed their course (or wish to have their MA conferred in person) may request to be put on the waiting list for their preferred degree ceremony date. Please email academic.office@chch.ox.ac.uk for further information. 
It is possible to be awarded a degree "in absentia" (i.e. without being present at the ceremony). If you wish to have a degree conferred in this manner, please complete the in absentia ceremony booking form.
Once your booking has been confirmed
You will receive booking confirmation from the Degree Conferrals Office. In advance of the ceremony the Academic Office at Christ Church will email you inviting you to make hospitality and academic dress hire arrangements. If you have received this email, please click on "Book Now" below, to complete the online requirements form.
BOOK NOW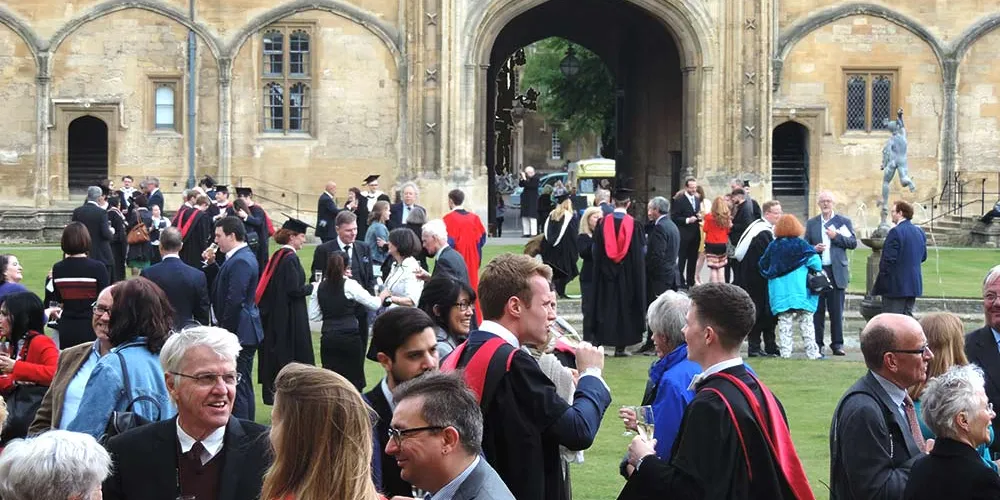 FAQs
How many guests can I bring to my graduation ceremony?

You may bring two guests.

What do I have to wear to my graduation ceremony?

Graduands are required to wear academic dress with sub-fusc clothing. Detailed regulations including hire costs will be sent to you once your ceremony booking has been confirmed.

Do I have to pay for my graduation ceremony?

There is no charge to attend a ceremony or luncheon/afternoon tea in College. The only fee is a £50 conferral fee, which is applicable to MA graduands only. All candidates will need to pay for gown hire or purchase their own.

Can children attend the ceremony?

Children may attend the ceremony at the Sheldonian Theatre. It is important to note that, as a Grade 1 listed building, certain areas of the Sheldonian's seating spaces are not suitable for children under the age of six. For those who find it safer and more comfortable, the Sheldonian provides a dedicated family-friendly space – the Cecil Jackson Room - where live streaming of the ceremony is broadcasted. Please notify us if you intend to bring a child under the age of six so that we can inform the staff at the Sheldonian Theatre. Any child aged six and over, or a child who cannot sit on a parent's/guardian's lap during the ceremony, will count as a guest and require their own ticket. 

All children (excluding babes in arms) require a ticket to attend the reception in College. 

When am I eligible for my MA?

BA and BFA graduands are entitled to proceed in due course to receive the status of Oxford MA, a mark of seniority within the University, which may be taken seven years following original matriculation (in or after the 21st term from matriculation). This does not apply to those who complete undergraduate Masters degrees (e.g. MBiol, MBiochem, MChem, MEng, MMath, MPhys, etc.). Please note the Oxford MA is about reaching a new status within the University and is not an upgrade of your BA or an additional qualification. It therefore has no subject or class.

A £50 fee is payable for all MA conferrals. MAs are automatically members of the Convocation, conferring certain voting rights (e.g. in the election of the Chancellor of the University). Members of the House who are members of Convocation are also entitled to dine at High Table by implied invitation, and at their own request and modest expense, provided arrangements are made in advance with the Steward's Office.

What is the non-Christian formula?

Graduands of MA, DD, DCL, DM or MCh are asked to kneel in front of the Vice-Chancellor, who touches them on the head with a Bible admitting them using the formula 'In the name of the Father, of the Son, and of the Holy Ghost'. You can opt out of this part of the ceremony; however, we need to know in advance. All other degrees are unaffected by this. You cannot request the non-Christian formula on the day of the ceremony.

Is there an official photographer?

Gillman & Soame will take official photographs in College after the ceremony. A DVD of the ceremony will be available to purchase online.

How do I obtain a degree certificate?

Once you have your degree conferred at a degree ceremony either in person or in absentia, you will automatically receive a Degree Certificate. This will be sent to you by recorded delivery. It is essential that you put the address to which you would like your certificate posted on your degree ceremony booking form.

If you have passed your examinations and have not had your degree conferred at a degree ceremony, or if you have attended a ceremony but require proof of your award to present to a third party, you can obtain a digital Degree Confirmation Letter via the University's eDocuments Service. 

How do I change my name on my degree certificate?

The name which you held during your course of study will be the name on the Degree Certificate and Confirmation of Degree statement. The only retrospective changes that can be made are where an administrative error has occurred or where we are required to make a retrospective change under the provisions of the Gender Recognition Act 2004.

If you have changed your name following completion of your course of study (for example, through marriage, or by Deed Poll) and wish to demonstrate to a prospective employer or education institution that your Degree Certificate belongs to you, supporting documentation showing the name change should accompany the Certificate.

I have lost my degree certificate. Can I order a replacement?

Replacement certificates can be ordered through the online University Shop.

How do I order an on-course or replacement transcript?