Mark is Secretary of the Oxford Society of Change Ringers, which was founded in 1734. Members ring at Christ Church, Carfax, and many of the oldest colleges including Merton and Magdalen.
The Cathedral has 12 bells – there are only about 120 rings of 12 bells in the whole country, out of about 6000 sets.
Mark – volunteer bell ringer
Mark comes from a ringing family and has been doing it for 25 years, since he was 9 years old.  Experienced ringers are always welcome to join the Society, though they need to be very proficient to ring at Christ Church, the most difficult and prestigious of all the Society's venues. 'The standard for joining us here is to be able to ring Surprise Royal. The Cathedral has 12 bells – there are only about 120 rings of 12 bells in the whole country, out of about 6000 sets. They're tough ones to ring – the first six are hung in a straight line, not a circle, so it's hard to see the others ringing.'  
The group rings at the Cathedral from 10am to 11am on Sunday mornings, with practice on Thursdays from 7.30 to 9pm every other week, and they also ring every other Sunday afternoon. The ringing is unpaid except for some special occasions, including college events and weddings (fairly unusual  – normally all ringing is unpaid).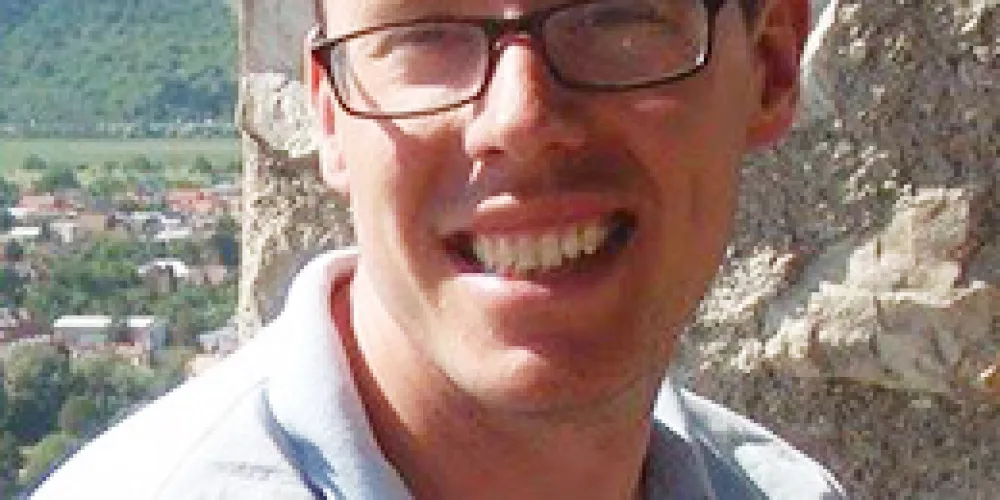 Becoming a bell ringer at Christ Church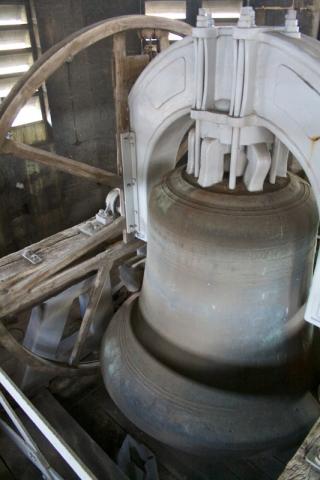 Supervision: Ringing Master or deputy  
With relation to Cathedral administration: Volunteer and Visitor Coordinator
Time commitment: As agreed with the Changer Ringers Committee.
Purpose and function: To carry out bell ringing in the Wolsey Tower and Tom Tower for key national, College and liturgical occasions, and to a high standard. Also, ring bells at weddings upon request.
Role profile and duties:
Enthusiastic and capable ringer
Can handle a bell safely and ring to a rhythm
Should be able to ring at least Surprise Royal, preferably Maximus, to a high standard
Willing to undertake training and do appropriate preparation in their own time
Must be prepared to make regular attendances at the Cathedral and other venues
Must be able to work as a part of the team and take instruction
Must ring to as high a standard as possible at all times
Should be prepared to help with the organisation of bands for ringing if required
Ringers to attend practice nights and ring for services as arranged and confirmed by Christ Church Cathedral
Beginners can be trained by the Oxford Diocesan Guild of Church Bell Ringers at St Aldates or St Giles; and students at Oxford and Oxford Brookes Universities have their own society (ouscr.org.uk).
General volunteer requirements:
Read and follow the Christ Church Cathedral Volunteer Safeguarding Guide
Complete Church of England Safeguarding Training – Basic Awareness, and Foundation modules
Read and sign the Volunteer Agreement
Complete induction training which will include Health & Safety, Fire, Security, as appropriate for the role
Depending on additional advice received from the UK government or Church of England, you may be required to attend additional training sessions
Attend Volunteer Days and training sessions as appropriate for the role

Volunteer benefits
Become part of a friendly, supportive and welcoming community of volunteers
Invitations to monthly coffee mornings with quizzes and talks; annual Garden Party and Epiphany Party (including a guest); visits to places of interest
Priority booking to services such as Nine Lessons & Carols
Free entry to the Christ Church site at any time (when open) with family or friends
10% discount in the Christ Church shop.