Sarah Gilbert receives Freedom of the City of London
In recognition of her outstanding contribution to public health and science in her role as the Oxford Project Leader spearheading the development of the Oxford–AstraZeneca COVID-19 vaccine, Professor Dame Sarah Gilbert has been awarded the Freedom of the City of London.
Professor Gilbert holds the Saïd Chair of Vaccinology in the Nuffield Department of Medicine and is a Senior Associate Research Fellow at Christ Church. In 2020 she initiated and led the development of one of the first vaccines against COVID-19 to be approved in the UK. The Oxford–AstraZeneca vaccine has been used in more than 180 countries and is thought to have saved more than six million lives.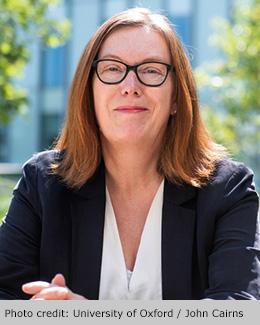 In 2021 Professor Gilbert was made a Dame Commander of the British Empire for her groundbreaking and lifesaving work. Her book Vaxxers, which tells the story of the Oxford–AstraZeneca vaccine's development and offers insight into the tireless work of those who achieved this great scientific feat, became a Sunday Times bestseller.
In a ceremony on Wednesday at Guildhall, London, Professor Gilbert received the Freedom of the City of London. Believed to date back to the 13th century, the awarding of the Freedom once allowed recipients to carry out their trade freely in the City. Today the award is ceremonial and is used as a means of honouring someone who has made an outstanding contribution to London or public life. 
someone to whom we owe an incalculable debt of gratitude
Professor Gilbert was nominated for the Freedom of the City of London by London's Lord Mayor Nicholas Lyons and former Lord Mayor Sir David Wootton. Speaking before Wednesday's ceremony, Nicholas Lyons said: 'Over the course of one's life, you meet or hear about many thousands of people – and some people stand out – and Sarah Gilbert is one such person, and someone to whom we owe an incalculable debt of gratitude.
'As COVID began to take hold in this country and around the world, Sarah and her colleagues worked tirelessly to develop the Oxford-AstraZeneca vaccine and today, it was our privilege to award her the Freedom and thank her for her incredible work.'
Professor Gilbert said: 'I am honoured to receive the Freedom of the City of London. This award recognises my work to develop an effective, affordable vaccine against COVID-19 that has now saved more than six million lives worldwide. The vaccine's development was only made possible because of the dedication and expertise of a huge team at the University of Oxford and our research partners around the world. 
'It is a privilege to celebrate today with some of my colleagues from the Pandemic Sciences Institute in Oxford, which is now working to protect us all from future pandemic threats.'
We'd like to congratulate Professor Gilbert for her award and to thank her sincerely for all she has done and continues to do to save lives across the world.