Christ Church on University Challenge
Monday's episode of University Challenge (BBC Two) saw a talented team from Christ Church go head to head with the University of Southampton's top quizzers in a nail-biting first-round match. 
The Christ Church team was led by Arthur Wotton, DPhil candidate in Modern Languages, who was joined on the panel by Eliza Dean (BA Classics and French), Melika Gorgianeh (DPhil Astrophysics) and Elliot Lowe (BA Classics), with Tian Long Lee (MMathPhil Mathematics and Philosophy) in reserve. 
The two teams were neck and neck for much of the match, with Southampton securing 70 points to Christ Church's 75 at the mid-way point. The later stages of the game, however, were dominated by Christ Church quizzers, who offered up correct answers from 'Mayotte' and 'mango' to 'Caligula' and 'capitalism'. Curiously, though, they missed the question on Cardinal Wolsey!
Despite a valiant effort from the Southampton contestants that saw them close the Christ Church lead significantly in the show's final minutes, they weren't quick enough. At the final gong, Christ Church had 180 points to Southampton's 155.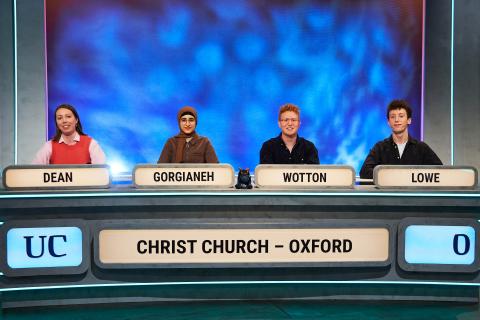 Reflecting on her time on the show, Eliza Dean commented: 'Being a part of this University Challenge series was such a rewarding experience. It was a mix of excitement and nerves: it was thrilling racing the other team to the buzzer, but I found my mind didn't work as efficiently when I was under the studio spotlights and in front of Amol Rajan!
'I can't pass over the fun I had with my fellow teammates – our appearance on University Challenge was the culmination of many rigorous team practice sessions, and it was lovely to get to know some of my college peers when travelling to Manchester for filming. We had great banter with Amol and almost got lost in the maze of filming studios a few times!'
Eliza also recalls one amusing on-air moment: 'I have to admit I did pull the buzzer off the table when buzzing too vigorously and had to surreptitiously screw it back on as if nothing had happened!' 
We'd like to congratulate the Christ Church team for their impressive performance and wish them luck in the next round. They've made us all proud.