Dr Arlene Holmes-Henderson features in a new film about policy engagement in the Arts and Humanities
Dr Arlene Holmes-Henderson, Senior Research Fellow in Classics Education, features in a new film about policy engagement in the Arts and Humanities.
Oxford University's Policy Engagement team followed Dr Holmes-Henderson to Parliament, interviewing the policy colleagues she works with and the impact her research and engagement is making in real world educational decision-making circles.
Dr Holmes-Henderson researches the impact of learning ancient languages in the 21st century, with a view to widening access to oracy education, Latin and Greek to state school pupils.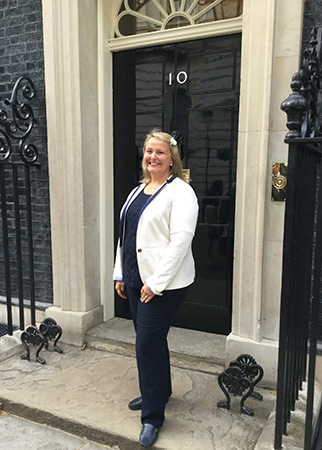 As an expert advisor she works with the Department for Education and the Oracy All-Party Parliamentary group to shape new policy.
Dr Holmes-Henderson said: "I'm delighted that we're showcasing policy engagement with Arts and Humanities research; so often the scientists dominate the narrative here.
"I hope that my film might encourage more colleagues in Arts and Humanities to become policy-engaged, and as Policy Leader for the Humanities Division I am ready to support them to do so!
"My long-term goal is to share my engagement and innovation expertise with colleagues by contributing to the new field of Knowledge Exchange Studies. I see my future as a Professor championing the intersection of policy, practice and research."
You can find out more about Dr Holmes-Henderson's experience of becoming a policy advisor here.