Dr Clare Rees-Zimmerman receives 2023 Katharine Burr Blodgett Award
The Joint Colloids Group of the Royal Society of Chemistry (RSC) and the Society of Chemical Industry (SCI) has given this year's Katharine Burr Blodgett Award to Christ Church Junior Research Fellow Dr Clare Rees-Zimmerman. The honour is awarded for the best PhD thesis in colloid and interface science – a study at the intersection of chemistry and physics that concerns microscopic particles dispersed in fluid (colloidal particles).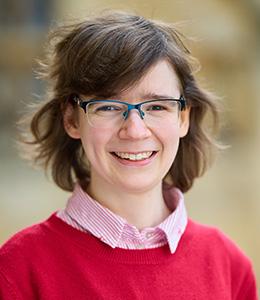 Dr Rees-Zimmerman's celebrated PhD, which she completed at the University of Cambridge, examines the microscale motion of these tiny particles, which have a diameter of just 1 nanometre (1×10−9m) to 1 micrometre (1×10−6m), and considers how the behaviour of the colloidal particles can be manipulated to make functional materials more sustainable. 
the discovery of a novel type of microscale particle motion
As Dr Rees-Zimmerman explains, her work 'exploits the microscale motion of particles to control the arrangement of particles in coatings during drying.
'My thesis explored this from all angles: theoretical, modelling and experimental work. Particularly exciting findings were: the discovery of a novel type of microscale particle motion, and the conclusion that tuning particle interactions should be an effective way to control particle arrangement in thin film materials.'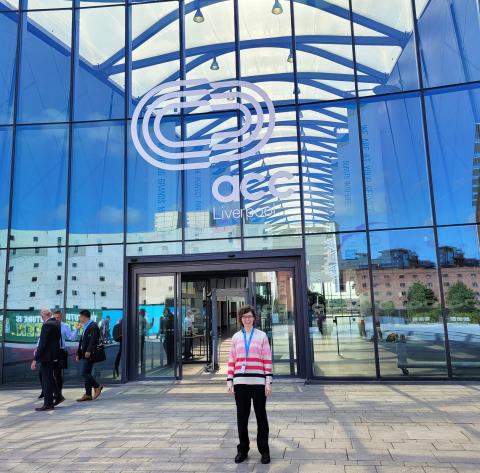 The Katharine Burr Blodgett Award was announced at the International Colloid and Surface Science Symposium last month, held in the impressive Arena and Convention Centre on Liverpool's iconic waterfront. 
Speaking afterwards, Dr Rees-Zimmerman said: 'I am delighted that my PhD work has been recognised as excellent in its field, and especially to have received an award in honour of Katharine Burr-Blodgett, the first woman to receive a PhD degree in Physics from the University of Cambridge!' 
We'd like to congratulate Dr Rees-Zimmerman for this remarkable achievement. We look forward to seeing where her research takes her next. 
Dr Rees-Zimmerman currently works in the Oxford Colloid Group, based in the Department of Physical and Theoretical Chemistry, with Christ Church's Professor Dirk Aarts. 
Dr Rees-Zimmerman's PhD thesis is available online, and you can learn more about her research via her Christ Church profile.