Christ Church prides itself on providing excellent hospitality. Our dedicated team of in-house chefs supplies a high standard of cuisine, using only the finest ingredients, locally sourced wherever possible.
We offer a selection of seasonal menus and are able to cater for specific diets. All meals are freshly prepared in the College's medieval kitchen, dating back to 1525.
We cater for lunches, afternoon teas, dinners, and banquets in the magnificent Great Hall or the characterful McKenna Room where our team provides a friendly and courteous service. Christ Church also boasts an extensive wine cellar, with own-label wine, sherry, port and whisky to enhance your meal.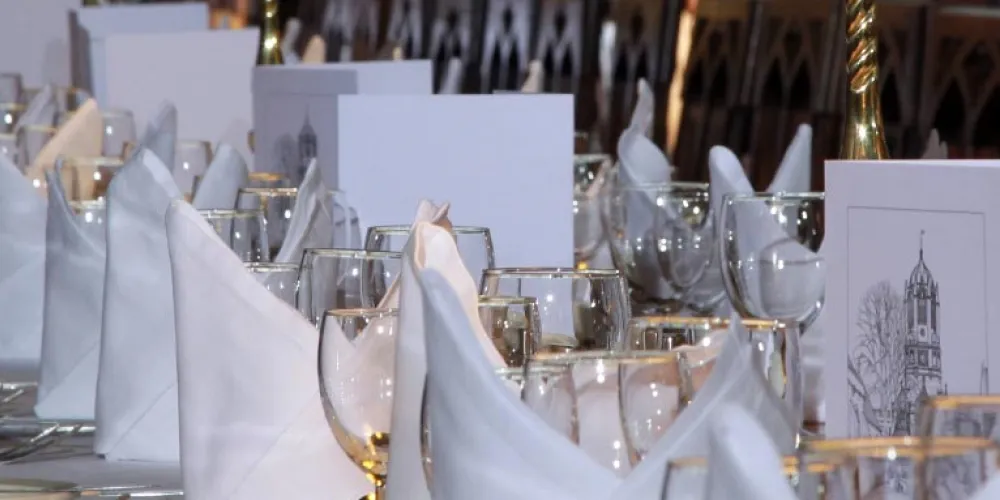 Dining in the Great Hall (vacation only)
Conference and summer school dining
The Tudor dining Hall, one of the largest in Oxford, with notable stained glass, hammer-beam roof and portrait collection, can seat up to 300 guests. Delegates can enjoy breakfast, lunch and dinner in the Hall during their stay. The Hall is a shared space with all other guests and separate tables will be reserved for each group. There is an additional fee for the exclusive use of Hall.
Banquets
The Great Hall can be booked for private banquets for special occasions. However, please note that availability is extremely limited to a few days during the vacation only, due to our conference commitments. Our minimum numbers for dining are 100 people. The Hall hire fee is £5,000 + VAT.
Private dining in the McKenna Room
Private lunches and dinners can be arranged in the McKenna Room from Monday to Friday during Term time, subject to availability. Dinners begin at 8pm, to fit with our student dining. 
The McKenna Room layout is flexible to suit your event and can seat up to 55 guests. The minimum numbers for dining are 20 people. It is also possible to have pre-dinner drinks in the nearby Buttery Bar from 7.30pm.
Pre-dinner receptions
Guests can enjoy a drinks reception before their meal on one of the College lawns or in one of our attractive reception rooms during the vacation.
Tom Quad is the largest quadrangle in Oxford, dominated by Tom Tower to the West, with an attractive ornamental pond and fountain in the centre. The short walk up to Hall makes it a popular setting for guests before a Banquet.

The Masters' Garden, with its views of Magdalen Tower and Merton College, is a delightful location for large Drinks Receptions. The Governing Body may occasionally give consent for a marquee to be erected in the Masters' Garden. In such cases, outside caterers will need to be arranged. If you are considering such an event please contact the Treasurer's Administrator, Sally Gillard (01865 276178).

The Cathedral Garden is a smaller, walled garden situated between the Deanery and the Cathedral. It can hold up to 100 guests and is available during the Summer Term and Vacation: Monday to Friday 7pm–9pm and Saturday 2pm–4pm and 7pm–9pm.

The Buttery Bar functions as a bar and wine cellar and is frequently used by guests dining in the McKenna Room, to enjoy a drink beforehand. During Term, receptions in the Buttery start at 7.30pm to fit with our student dining. Groups can have a cash (card only)/credit bar, or pre-order drinks.

During vacation, conferences and summer schools can request that the Buttery be open to enjoy a drink before or after dinner in the Great Hall. 

The Ante-Hall is a spacious area at the top of a magnificent stone staircase and it is used for large drinks receptions before dining in the Great Hall.

The Undercroft is a renovated cellar bar which can cater for up to 120 people (vacations only). It can be used as a communal space for Conferences and Summer Schools to have a drink before or after dinner, but can also be booked by groups for a private reception. 

With its Juke Box and two TV screens, it is an attractive space for Quiz Nights and socialising.

The Upper Library may occasionally be booked for Receptions for up to 90 people. Only light-coloured drinks may be consumed and no food is permitted. (Extra staffing and hire fees apply.)

Christ Church Picture Gallery

Christ Church Picture Gallery may occasionally be booked for Receptions for up to 90 people (after 5pm). The Gallery is a modern space housing a world-renowned collection of Old Masters paintings and drawings. You could combine this with an introductory talk by the Curator about some of the paintings and a chance to browse round the Gallery.

Only light-coloured drinks may be consumed and no food is permitted. (Extra staffing and hire fees apply.)