Cardinal Wolsey's Hat in Ipswich
Christ Church is delighted to have lent the red galero, said to have belonged to Cardinal Thomas Wolsey (1473-1550) to 'Wolsey's Ipswich' at The Hold in Ipswich. The exhibition runs until the end of October 2023 and explores Wolsey's legacy, re-connecting him with his hometown and examining his position on the world stage. 
Wolsey was born and educated in Ipswich.  He later attended Magdalen College School before studying theology at Magdalen College, Oxford, graduating at the age of 15. He enjoyed a meteoric rise.  In 1514, he was created Archbishop of York and a year later Pope Leo X made him a Cardinal.  Soon afterwards the King appointed him Lord Chancellor. He also held the posts of Abbot of St Albans and Bishop of Winchester as well as that of Papal Legate (personal representative of the Pope in England).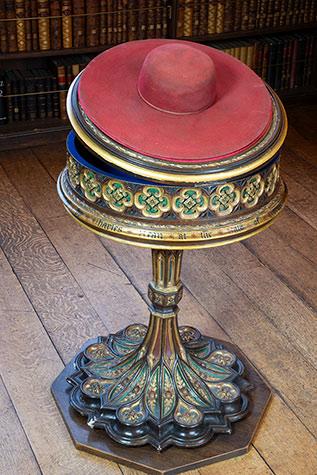 The red felt hat was perhaps received from Pope Leo X in 1515 and then presented to Wolsey by the Archbishops of Canterbury, Armagh and Dublin at a mass in Westminster Abbey in November 1515.  The hat is thought to have been found in the Great Wardrobe in London by Bishop Gilbert Burnet (1643-1715) in 1710 when he was Clerk of the Closet. Burnet's son left it to his housekeeper, from whom it passed to the Dowager Countess of Albemarle's butler, and then to the countess herself, who in 1776 presented it to Horace Walpole (1717-1797).
Described in the Strawberry Hill sale of 1842 as Wolsey's, the hat was bought by the actor Charles Kean (1811-1868), who is said to have worn it more than once when playing Wolsey in Henry VIII.  Various members of Christ Church purchased the hat for the sum of sixty-three pounds, and presented it to the College in the late nineteenth century.  It is usually displayed in the beautiful Upper Library. 
Wolsey founded Cardinal College, Oxford in 1525, although it was later suppressed. In 1532, it was refounded as King Henry VIII's College and, later, as Christ Church.
The exhibition in Ipswich is part of the Thomas Wolsey 550 project which has been made possible by the National Lottery Heritage Fund, Ipswich Central and Ipswich Borough Council.