Christ Church Cathedral receives Eco Church Award
At Christ Church we recognise our role as custodians of the world around us and our obligation to provide moral leadership as the home of Oxford's cathedral. We're therefore delighted that Christ Church Cathedral has received an Eco Church Award. 
Eco Church is an award scheme run in partnership with Christian Aid that recognises the efforts of churches in England and Wales to care for the planet. To receive an award a church must complete an Eco Church survey and gain sufficient points in each of the following five areas:
worship and teaching
management of church buildings
management of church land
community and local engagement
lifestyle
Christ Church Cathedral has secured a Bronze Award – a notable achievement since this is only awarded to those churches that have secured at least a Bronze standard in all five areas covered in the survey. In three areas we met a Gold or Silver standard. 
This award represents an important step forward in our mission to care for our world.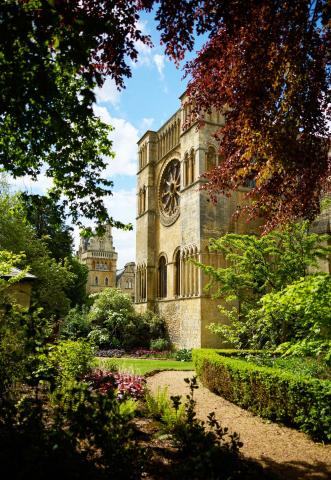 We're particularly proud of having achieved a Gold standard in the 'worship and teaching' category, which concerns how the Cathedral reflects on and discusses environmental issues in its services, prayer and teaching. 
Despite the challenges of mitigating the environmental impact of an ancient space such as Christ Church Cathedral, we met a Silver standard for the management of church buildings. Our management of church land also met this high standard. 
Cathedral Operations Manager Joseph Denby responded to the news: 'It's a great honour to have received this award, which reflects all the hard work being done by so many at Christ Church.
'This award represents an important step forward in our mission to care for our world and take a lead within the Diocese of Oxford. We look forward to our continued work across our whole community in the Joint Foundation to achieve our shared ambitious net-zero goals.'
We hope very much to build on our success, playing our part in protecting and restoring our planet for future generations.