Professor Steven Grahl appointed Director of Music of Trinity, Cambridge
Professor Steven Grahl has been appointed Director of Music of Trinity College Cambridge, effective from January 2024. He will leave his post as Organist (Director of Music) and Official Student at Christ Church, which he has held since 2018. 
Over the past five years, Professor Grahl has led Christ Church Cathedral Choir and served as an Associate Professor in the University of Oxford Faculty of Music, as well as conducting the critically acclaimed Schola Cantorum of Oxford.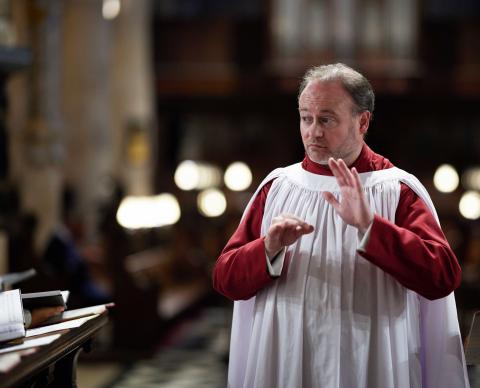 The Very Revd Prof Sarah Foot, Dean of Christ Church, remarked upon Professor Grahl's enormous impact: 'All of us at Christ Church are deeply grateful to Steven for his enthusiasm and hard work in the years he has been here. He has taken the Cathedral Choir from strength to strength, even during the pandemic, and led successful choir tours, and numerous concerts and special events. His support in adding the girls' choir, Frideswide Voices, to Christ Church's music programme was indispensable.
'Above all, Steven has been a wonderful colleague across the work of the Cathedral, in his teaching, and also in serving on Christ Church's Governing Body and as Curator of the Senior Common Room. We wish him well as he takes this next step in his career.'
In becoming Trinity's Director of Music, Professor Grahl follows in the footsteps of many internationally renowned conductors who have shaped the history of Anglican choral music, including Thomas Attwood Walmisley, Charles Villiers Stanford, and Dr Stephen Layton MBE. Dr Layton served at Trinity for 17 years until his departure in June. 
a most exciting opportunity
Responding to his appointment, Professor Grahl said: 'I am honoured to take up the position of Director of Music at Trinity, and will strive to sustain and develop the musical life of the College, in succession to my illustrious predecessors. 
'Whilst this is a most exciting opportunity, I am sorry to leave Christ Church, and excellent colleagues in the Cathedral, College, and Faculty of Music. I am looking forward to beginning my work with Trinity College Choir in the new year.'
Trinity's Master Dame Sally Davies welcomed the appointment: 'I am thrilled that Steven is coming to Trinity to work with our renowned Choir and bring pleasure to all those who participate in the musical life of the College, whether that is regular Evensong in our great Chapel or popular events in the calendar such as Singing on the River and the Advent Carol Service. 
'I look forward to hearing incredible musical experiences created by Steven with the Trinity College Choir and the next steps in what I know will be a wonderful journey for our Choir members.'
We wish to congratulate Professor Grahl for this exciting appointment. He will be missed greatly by the Christ Church community. 
Professor Steven Grahl will continue to be Organist and Official Student in Music at Christ Church until the end of 2023. Learn more about his work via his personal website.