Sports Day 2023: Christ Church takes on Trinity, Cambridge
On Friday 1 September, staff from our sibling college ventured to Christ Church ready for an afternoon of socialising and sporting rivalry. 
The arrival of the Trinity team was heralded by a rain shower, but this soon cleared so that by the start of play at 2pm the sun shone on Christ Church sports ground.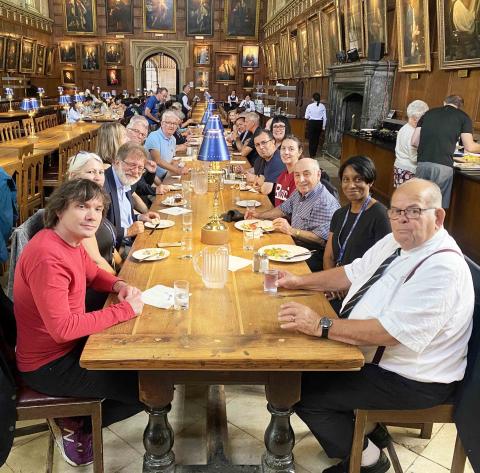 Before the games began the teams were treated to coffee and cakes, followed by a tour of college for our Cantabrigian competitors. As final preparation for an active afternoon we met for lunch in Hall. We then donned our sports gear and headed out for rounders or bowls. 
The rounders match saw the two teams evenly matched. After a very long first round in which Trinity scored a solid 22 rounders we benefitted from the skills of three big hitters on our team – Shakir Hasani (Buttery), Mark Hancock (Works Team) and Daniel Hayns (Hall). By the end we'd seen off our challengers, winning by seven rounders after the second session. 
The Christ Church bowlers totalled seven, while Cambridge brought 13 – a few of whom, we hear, belong to their local bowls clubs! Not to be beaten, our Christ Church teammates, including Jackie Billington, Kamila Fasilau, Sue Cooper, Andy Maisey, Dave Bateman and Paul Whatley, went up against Cambridge in three bowls games. It was a close-run thing (tape measures were even deployed!), but Christ Church emerged victorious, winning two of the three games. 
Having won in both matches, we were at last able to reclaim the sports day cup, which regretfully had been in Trinity hands since 2015. 
The day ended with a fabulous drinks reception and prize-giving ceremony on the Freind Room balcony, plus a delicious dinner in Hall. We'd like to thank Jackie Folliard and team for organising such a superb event. Next year we'll be in Cambridge and will fight valiantly to retain the trophy!